Visionary Women
The Visionary Women Circle engages women and men in the community to use their talent, time and resources to increase awareness, raise funds and encourage others to enlist in the fight against Alzheimer's disease and other related dementias alongside Alzheimer's Orange County. The overarching goals of the Visionary Women are to acknowledge caregivers, advocate policy, and support the senior community. All funds raised by the Visionary Women support the essential services and programs delivered to families at no cost by Alzheimer's Orange County.
Become a member of Visionary Women
Help us raise AWARENESS of Alzheimer's disease, the now third leading cause of death in Orange County. The information you will learn and the connections you will make may prove invaluable to you and those you care for.
Your membership includes invitations to an incredible array of social and learning opportunities, including:
Research conferences

Advocacy opportunities

Visionary Women Caregiver Luncheon

And more
Upcoming Visionary Women Events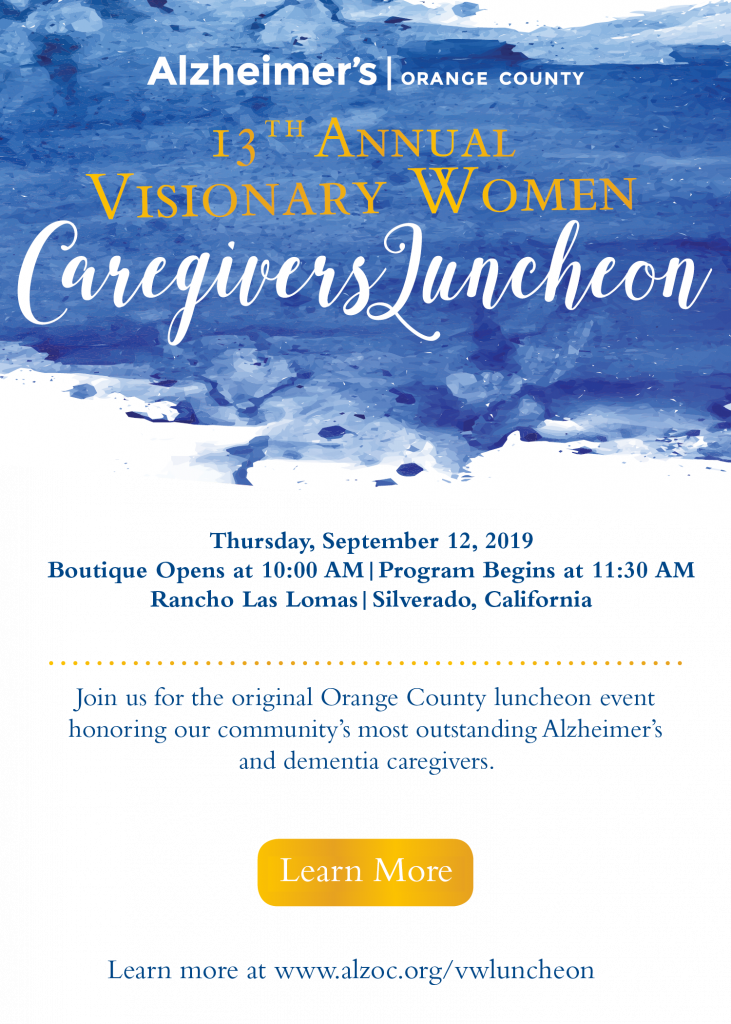 Each year, the Visionary Women Circle of Alzheimer's Orange County honors caregivers who display extraordinary compassion in caring for those touched by Alzheimer's disease and related forms of dementia. Caregiver honorees are recognized for their commitment to compassionate care, which distinguishes them and inspires others. RSVP/Purchase tickets at: https://www.alzoc.org/visionary-women-luncheon/