By Mike Detke, MD, PhD
Chief Medical Officer, Cortexyme
While the number of people with Alzheimer's continues to climb, there have been no medical breakthroughs to slow the progress of this devastating disease. But there is reason for hope. Recent scientific discoveries have led to a new understanding of the cause of Alzheimer's disease that could revolutionize the way that it is treated.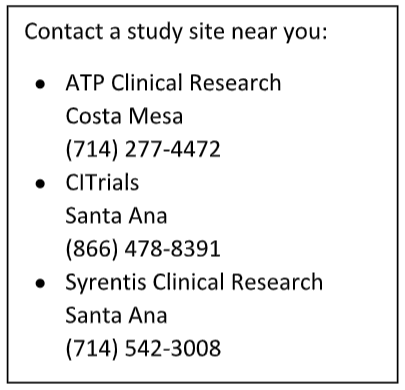 I am the Chief Medical Officer for Cortexyme, a company that is sponsoring an international clinical trial for an experimental drug based on a new theory of Alzheimer's. This study, called GAIN, is recruiting participants at three sites in Orange County and other centers across the country. GAIN is based on a completely new understanding of Alzheimer's disease and potential treatment approach, which I explain in this blog. Please read more and feel free to call a study site or visit our website at www.GainTrial.com if you or someone you love is interested in participating.
Bacteria May Cause Alzheimer's
Scientific experts have discovered that bacteria called P. gingivalis, most commonly associated with degenerative gum disease, can infect the brain in older people, who are more susceptible to infection. Once in the brain, these bacteria have been shown to destroy neurons (brain cells) and cause other signature signs of Alzheimer's disease. When the brain becomes infected, the brain's natural defenses gather around the infected cells causing the inflammation and buildup of plaques associated with Alzheimer's disease.
A recent study found that more than 90 percent of patients with Alzheimer's disease had evidence of P. gingivalis bacteria and its toxins in their central nervous system. You can read the scientific journal article published in January 2019 here. Tests in mice demonstrated that the bacteria could travel from the mouth to the brain and increase the production of brain plaques, inflammation and damage to neurons, all of which are associated with Alzheimer's disease. You can read the scientific journal article published in October 2018 here.
Experimental Drug May Stop Damage Caused by Bacteria
Cortexyme is developing therapies based on this new understanding of P. gingivalis infection as a potential cause of Alzheimer's disease. We have developed an experimental drug called COR388 that is designed to stop the bacteria from further damaging healthy brain cells.
Click the image to watch a video that explains how this may work.
https://gaintrial.com/en/new-alzheimers-approach
In a study of mice infected with the P. gingivalis bacteria, COR388 reduced the infection, blocked the production of toxins in the brain, reduced inflammation and halted damage to neurons. You can read the scientific journal article about this study published in January 2019 here.
Promising Early Human Study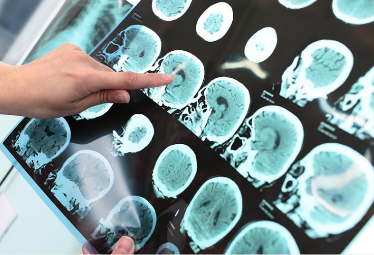 Our company previously conducted a clinical study administering our drug COR388 or placebo for 10 days to 24 healthy older volunteers, and for 28 days to nine patients with Alzheimer's disease. COR388 was well-tolerated with no concerning adverse events. In addition, there was a promising trend of average memory test improvement for the Alzheimer's patients in the study who were administered COR388 compared to placebo.  There were also signs in blood tests that COR388 reduced the inflammation and damage to key proteins in the brain.
GAIN Recruiting Patients in Orange County

Based on the promising early research, Cortexyme is conducting an international clinical study called the GAIN Trial.  This clinical trial will evaluate whether our drug is safe and can slow or halt the progression of Alzheimer's disease.
The GAIN Trial is being conducted at about 90 clinical research centers in the US and Europe enrolling more than 500 participants with mild to moderate Alzheimer's disease.
There are three sites that are currently recruiting patients in Orange County:
ATP Clinical Research in Costa Mesa (714) 277-4472
CITrials in Santa Ana (866) 478-8391
Syrentis Clinical Research in Santa Ana (714) 542-3008
Consider Participating in the GAIN Trial
We are working hard to find approaches for slowing the progression of Alzheimer's disease. Advances in treatment are only possible through clinical trials like GAIN.  Clinical trials explore whether investigational drugs are safe and effective for humans, following strict requirements to protect patients and help produce reliable results.
I invite you to learn more about the study and see if you or a loved one may be eligible. The Orange County study sites are recruiting people who:
Are 55 to 80 years old

Have mild to moderate Alzheimer's disease

Have a caregiver or family member who will attend study visits, report on daily activities and oversee taking medication
Study participation, testing and medication are free to all participants. Some people may receive stipends to cover cost of meals and travel associated with clinic visits.
What's Involved
Subjects enrolled in the GAIN Trial will be randomly assigned to one of three groups:
One-third will take an 80 milligram pill of the study drug
One-third will take a 40 milligram pill of the study drug
One-third will take a placebo (sugar pill)
In order to objectively and scientifically assess the effects of the drug, neither the participants nor the study doctor will know during the study what group each patient is in.
Interested patients will need to go through a screening process to ensure they are appropriate candidates. Participation will last about one year, with scheduled visits to the clinic for assessments about every four to twelve weeks until the 48-week treatment period is complete. Clinic visits will include memory and psychological assessments as well as physical exams and safety tests.
 Learn More About GAIN
You can learn more about the GAIN trial and contact the study sites in Orange County and across the country by visiting www.GainTrial.com.
About Cortexyme
Cortexyme, based in South San Francisco, is a biopharmaceutical company pioneering a novel disease-modifying therapeutic approach to treat a key underlying cause of Alzheimer's disease and other degenerative diseases.  To learn more about us, you can visit www.cortexyme.com.