Support groups are a frequently used resource by those who live with or are affected by dementia. However, some may be hesitant about joining a group. Taking closer at this valuable resource can help you discover how it can make a difference for you or someone you know.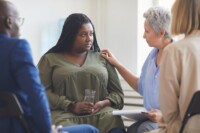 What is a support group? 
Support groups are casual and informal discussions where caregivers can come together to share experiences and express their feelings in a safe, confidential environment. Research has shown that these groups can be beneficial to those who participate in them by reducing stress in caregivers and helping caregivers cope with their caregiving journey and negative experiences. These groups also provide educational information, resources and problem solving that caregivers can apply to maximize positive outcomes and experiences while caring for a loved one. Education can empower caregivers by providing them new techniques and strategies when caring for their loved one. Meeting others going through a similar journey can make you feel more connected and less alone.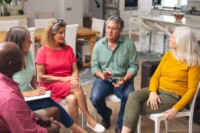 Who are support groups for?
Support groups are for anyone affected by Alzheimer's or another type of dementia. Whether you are the primary caregiver, a family member, friend or or someone else with a connection to the disease there is a support group for you. Alzheimer's Orange County (AlzOC) offers several support groups suited for the varied needs of the community so you can find the group you feel the most comfortable in and can better relate to those that are part of it. Our support groups include:
Men's Group
Faith-based
Lewy Body & Frontotemporal Dementia
After Dementia (Grief Support Group)
Intellectual Developmental Disabilities (IDD)
Spanish
Korean
Vietnamese
Mandarin
AlzOC has resumed offering support groups in-person, but there are still some groups that meet online. See the full list of our support groups here.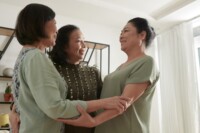 The benefits of joining a support group:
Find Relief and Find Solutions
Having an outlet to express yourself amongst like-minded people could be a great opportunity to express your emotions and find a collective sense of relief with others that have a first-hand understanding of the journey and challenges you live every day. You can also participate in these groups to explore new ideas, discover things you might have not considered before and find practical solutions to common problems. Dementia can affect everyone differently, but everyone can work together to find common ground and relevant support.
Connect and Create a Sense of Community
Joining a support group and hearing from others is key to reminding you that you don't have to walk your caregiving journey alone and is vital to connecting with others to establish a community. Support groups also allow you to establish a network of people you can call on if you are in need of support and gain new friendships for you and your loved one to connect with.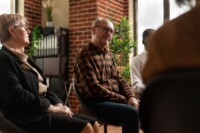 "When I ruminate on what I like to see in a support group, I think I would say that the most appealing feature is to hear the different points of view and opinions of people "in the trenches", so to speak. Other caregivers with different backgrounds telling how they have felt and what they have tried builds a sense of community around shared experience." – Wayne Reed, Support Group Participant
Overcoming objections
Objection: I have a hard time sharing my experiences or expressing my feelings.
Consider this: No one is required to share their feelings or experiences. You only share what you want to share and when you want to. Our support groups allow you to express yourself on your terms.
Objection: I'm afraid that my loved one I care for may overhear what I share if I attend a Zoom virtual support group from my home.
Consider this: Try the following so that you're loved one can't hear the conversation.
Ask for a friend or family member to watch your loved one during your support group session
Wear headphones
Move to a different room if you're able to
Objection: I don't have time to attend a support group.
Consider this: Caring for your loved one can be time-consuming, but making time for a support group can be worth your time. You will leave a discussion feeling better equipped and more confident in your caregiving approach. Others have felt uplifted, encouraged and find a sense of relief after attending a support group session. It's also a key way to find a community of people that can empathize with your experiences and help you get through them.
Objection: English isn't my primary language.
Consider this: The Alzheimer's & dementia community spans all sorts of cultures and languages which is why AlzOC offers support groups in multiple languages, not just in English. We offer groups in Spanish, Korean, Vietnamese and Mandarin.
For more information about our support groups, view our support groups page that lists all the available support groups throughout Orange County.  If you're interested in becoming a support group facilitator contact Kathy Carchidi: Kathy.Carchidi@alzoc.org
Additional reading & resources
Read the Five Things First-Time Care Partners Should Know blog to equip yourself with useful tips and tricks.
Looking for even more useful tips on caregiving? View our caregiver topic sheets, which provide information for all aspects of caregiving.
Get expert solutions and advice, call our helpline today.