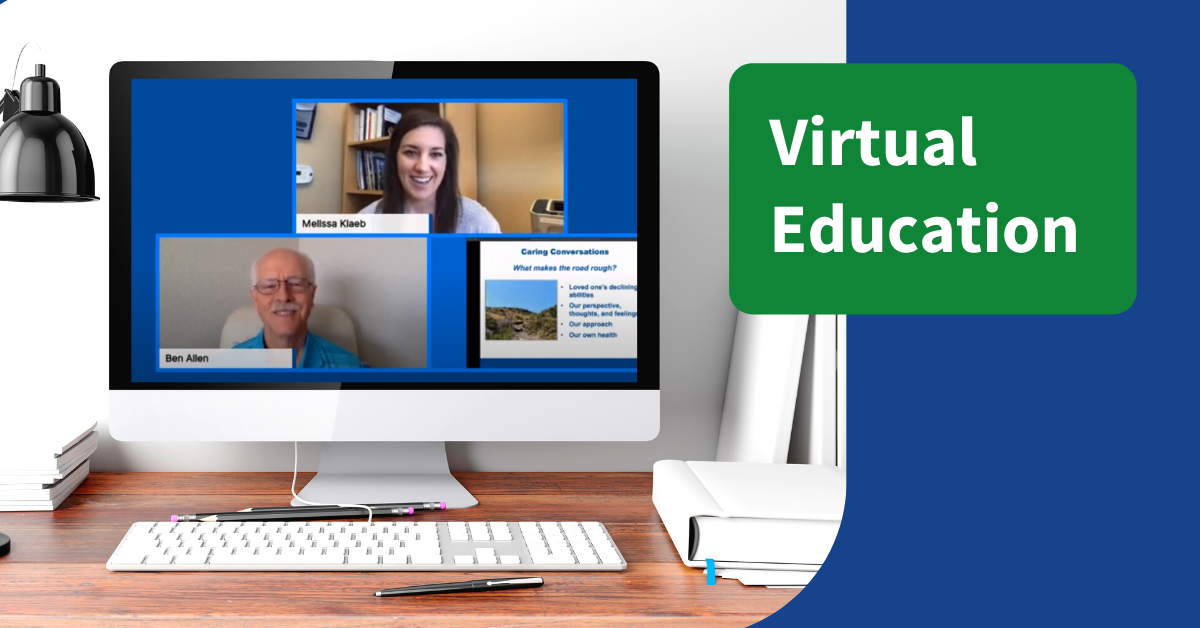 Embracing Anticipatory Grief: A Path to Healing

Alzheimer's Orange County presents on the topic of Anticipatory Grief. Throughout this webinar, emotions associated with grief before loss are introduced, defined and normalized among caregivers. Our presenters discuss how anticipatory grief influences caregiving throughout the disease process.
Let's Talk About Dementia: What You Need to Know!
This course will briefly touch on the fundamentals of dementia, practical care for those impaired, caring for family caregivers, and essential collaboration with community resources.
Dispelling Common Myths About Dementia
Separate fact from fiction and earn practical tips for better communication and connection with your loved ones with cognitive decline. Watch to learn more.
It's All About the Approach! How to Adapt when a Loved One has Memory Loss
When a loved one experiences cognitive changes, their ability to communicate is often challenged. Watch to learn ways to adapt your approach in order to improve positive communication between yourself and those with memory loss or dementia.
Activities at Home: Making our Time Together Meaningful and Enjoyable
Spending time together with loved ones with cognitive decline can often become more challenging. Watch a discussion of ideas for activities at home, and ways to make your time together enjoyable and meaningful.
Exploring and Reframing "Resistance to Care"
Many times, when attempting to provide care for loved ones with cognitive changes, even our very best intentions can be met with what we often call "resistance." Learn from this conversation about why we often face these challenges, how we can reframe "resistance," and steps to proactively create positive interactions with our loved ones.
Communication and Memory Loss: How to Have Better Conversations
Memory loss and other cognitive changes can greatly impact how we talk to one another. Discover better ways to communicate and connect with friends, family, or loved ones with cognitive changes.
Speaking the Language of Deep Compassion: When Words Are Few, What Shall We Do?
End-stage dementia poses some unique challenges to compassionate care for those who are minimally responsive. Explore how best to connect with those near life's end, who cannot respond in classical ways. Watch our speakers present multi-disciplinary approaches to help us understand how our care can enfold people with dementia and ease their transition from this life.
Understanding and Dealing with Changes in Behavior Expressions
Caregivers can often face frustration when caring for loved ones with cognitive changes who experience distress which can present as changes in behavior expressions. Gain a better understanding of why these changes occur, and how we can lessen distress in our loved ones and have more positive experiences.
Understanding Sundowning
Sundowning refers to a period of late-day confusion that is common in many people with cognitive changes. Find out the potential causes of sundowning, and how we can take a proactive approach to lessen its effects.
Someone I Love has Early Memory Loss, What Can I do?
If you or someone you know has been experiencing memory loss, you are far from alone. 5.3 million Americans are estimated to be living with Alzheimer's disease or another type of dementia. Memory loss at any age can cause feelings of anxiety, fear, and sadness. Learn what steps you can take and how Alzheimer's OC is here to help.
Meaningful Activities at Home: Staying Engaged while Staying Safer at Home
Watch and learn about activities your loved ones with cognitive decline can do to keep them engaged at home.
Personality and Behavior Changes: Understanding Why They Happen and How to Approach Them
Watch AlzOC Director of Education, Melissa Klaeb and Dr. Miriam Galindo discuss how to manage behavioral and personality changes you're loved one might be experiencing.
Caring Conversations: How Communication Approaches Can Lead us Down Rough Roads or Smooth Streets
How you communicate with someone with dementia matters. Learn what methods to follow and to avoid to communicate more effectively with the loved ones we care for.
Are You Good to Go? Advance Care Planning Workshop
Watch a recording of our virtual conversation on the information everyone should know about Advance Care Planning.
In addition to covering the specifics of how to put care plans in place, this presentation also explores how to have important conversations with your loved ones, necessary to ensure they know your wishes in the event of a serious or terminal illness.
Memories in the Making at Home

Learn tips to engage your loved one with memory loss or other cognitive changes with the meaningful activity of painting. The painting process provides structure and support for the person while at the same time allowing them to create their own message on paper.
Caregiver Health 
Caring for others living with memory loss, Alzheimer's, or other types of dementia can take a lot of effort and can often be challenging. As a result, it's critical that caregivers take care of themselves and learn how to manage the stress that can come with caregiving. Explore how in the video courses below.
Managing Caregiver Stress: Caring for Yourself While Caring for Others
Learn effective techniques to help manage caregiver stress and listen to our Director of Education, Melissa Klaeb, and Memories in the Making® Coordinator, Ben Allen, discuss their first-hand caregiving experiences.
Read our Managing  Your Mental Health blog for more ways and videos to help you take care of your mental and emotional health.
Becoming a Resilient Care Partner Part I
Develop a repertoire of skills for resiliency, self-care, and coping when caring for someone with dementia. Learn how dementia caregiver stress can impact health and lead to depression and anxiety. Discover strategies for building resiliency which helps preserve and restore emotional and physical health while navigating the uncertainty of dementia caregiving. 
Read our Six Strategies for Developing Resiliency blog for more helpful information on how you can strengthen your resiliency.
Becoming a Resilient Care Partner Part II
Being a care partner for someone with memory loss can be incredibly rewarding, but also, incredibly challenging. It takes patience and skill to adapt to changes, and recognize when to ask for help. Watch part two of this series to develop resilience and deal with burnout. 
Read our Six Strategies for Developing Resiliency blog for more helpful information on how you can strengthen your resiliency.
Minimizing the Stress of Dementia Care for the Holidays
Caregivers of loved ones with dementia often encounter challenging situations when our loved ones are distressed and we are unsure of how to respond. Explore why distress is so common, how dementia affects behavior, and how we can work to minimize distress and maximize positive interactions.
Read our 9 Caregiving Tips for the Holiday Season blog for more tips you might find helpful for the holidays.
Caregiver Topic Sheets
Check out our Caregiver Topic Sheets for additional resources and helpful tips.