What is Memories in the Making®?
Memories in the Making®, the signature art program of Alzheimer's Orange County, was created to provide a meaningful activity for persons with dementia, while focusing on creative expression as a form of communication. When the disease affects language, art becomes a more suitable form of expression. With the stroke of a paintbrush participants are able to express themselves, often painting memories from long ago or images that represent their hobbies and passions. Currently, classes are offered at adult day centers and memory care communities. However, it can also be a one-on-one activity through an in-home care agency or with loved ones in the comfort of their own home.
Learn more about this program here!
The benefits of Memories in the Making can include:
Improved self-esteem

A productive outlet for emotions

Increased attention span and focus

Activation of brain neurons

An opportunity to socialize, thus reducing isolation

Recollection and expression of past memories

A way to reconnect with loved ones
Memories in the Making Framers List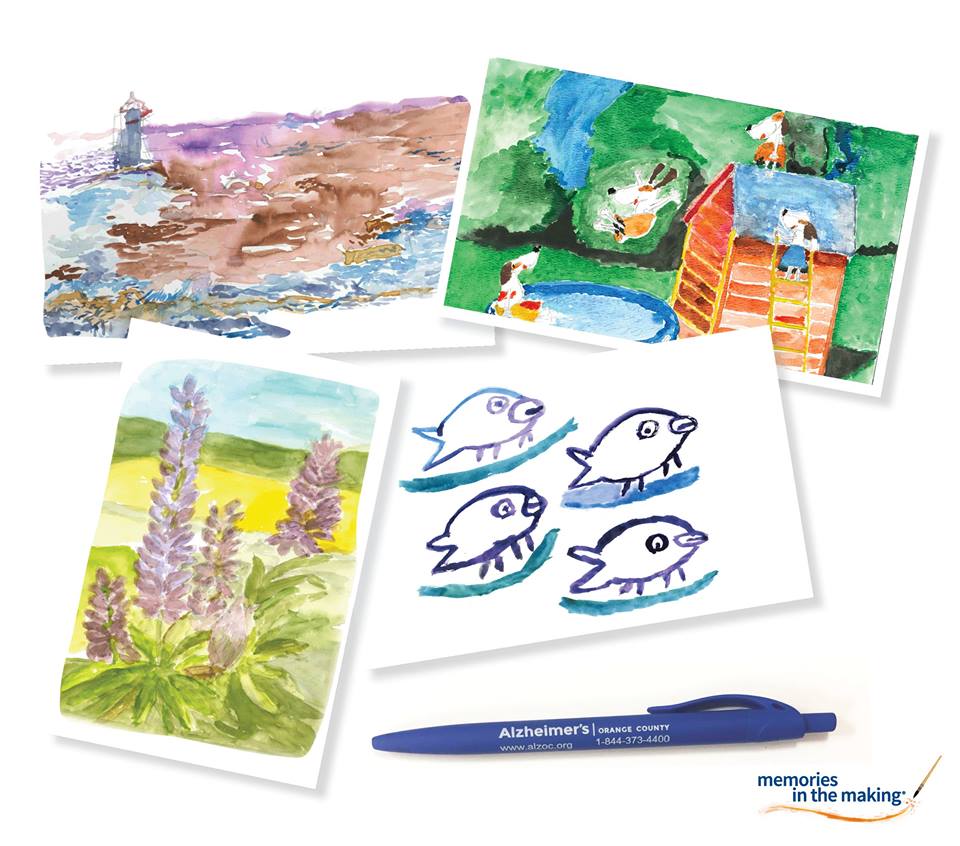 Note cards available for purchase online order: set of 4 note cards and blank envelopes for $5, plus $1 domestic shipping.
We would like to thank the Art-A-Fair Foundation (www.artafairfoundation.org) for their continuous support of Memories in the Making. This year they donated art supplies which will be given to all of our 20+ host sites where painting classes take place.

In the summer of 2016, Geneva's painting was on display at the Art-A-Fair Festival in Laguna Beach. Attending the event was a special moment for Geneva and her two daughters who frequently visited the Art-A-Fair in the past.
Public Display of Memories in the Making® Art
Each year the paintings are submitted to Alzheimer's Orange County for entry into the Memories in the Making Art Exhibition. Select paintings are framed and displayed to validate the participant's abilities, provide awareness for the disease and raise funds.
Memories in the Making paintings are available, on loan, as a way of educating and engaging the public in our quest for a world without Alzheimer's. Help us raise awareness of the disease and become a community supporter by displaying original paintings. Art is available for purchase, allowing interested parties to further support our cause by raising funds.
For art availability contact Brianne Ellsworth, Memories in the Making Program Coordinator at 949.955.9000
Current Exhibitions
Costa Mesa Senior Center
695 W 19th St, Costa Mesa, CA 92627
April 1st – June 30th
OASIS Senior Center
801 Narcissus Ave, Corona Del Mar, CA 92625
May 1st – June 30th
Get Involved
Family education classes are available if you are caring for a loved one with dementia or a related disorder. Learn how to encourage your loved one to communicate thoughts, feelings and memories through visual arts from the comfort of your own home. Neither you nor the person you are caring for need to be an artist to benefit from the program. Click here for details.
Memories in the Making is always seeking new locations for classes, as well as program volunteers. If you are interested in becoming a host site, volunteering or learning how to use art as a communication tool for individuals with dementia learn more about the Art Facilitator Training.
Become a trained art facilitator and learn how to engage and communicate with someone with Alzheimer's disease through painting. Attend the Memories in the Making Art Facilitator Training to find out more about the program: Art Facilitator Training
For other Memories in the Making volunteer opportunities please view descriptions here.