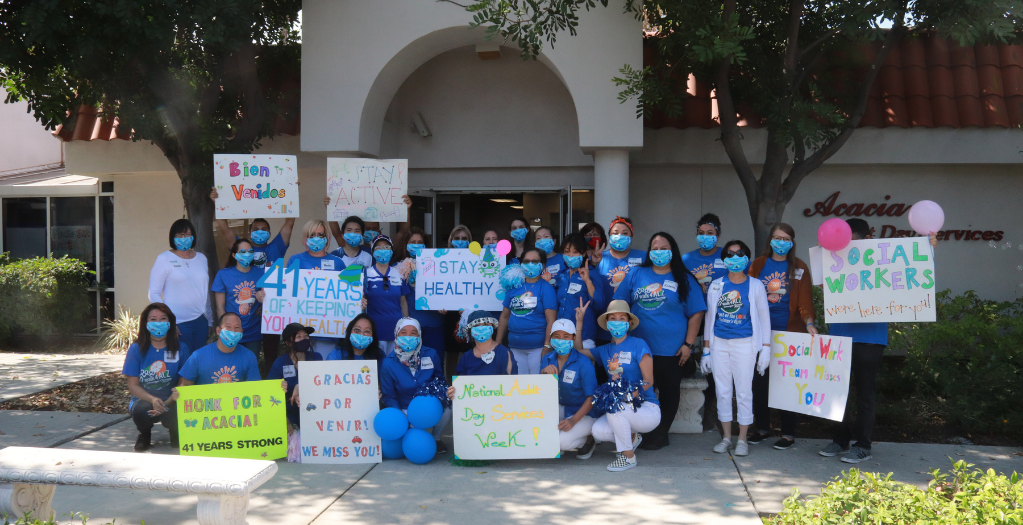 Healthy Aging Center: Acacia (formerly Acacia Adult Day Services) provides community-based services that serve both the medical and social needs of individuals who are living at home, but need daytime assistance for their health needs.
YES, WE'RE OPEN!
We have re-opened and have resumed in-person services! 
For more information, please call (714) 530-1566.
Mission, Vision and Values
Healthy Aging Center: Acacia (formerly Acacia Adult Day Service) is dedicated to improving the quality of life for frail older adults, persons with dementia or other disabilities and their families by providing expert, supportive care in an inviting and interactive setting.
Acacia will expand its capacity as an innovative, trusted resource and effective community partner providing services to promote health, wellness, and independence for our clients and their families.
Our location
Contact Us
Hours of service: M-F 8am – 4:30pm
Acacia Adult Day Services
11391 Acacia Parkway
Garden Grove, CA 92840
Phone: (714) 530-1566
Fax: (714) 530-1592
Please contact us for a tour or more information.
Acacia History
1976: A group from the United Methodist Church proposed opening a community Adult Day Care program to the City of Garden Grove who in turn wrote the pilot project funding grant to the Office on Aging. Once they were awarded the grant, they hired staff to organize and operate a program.

1979: The Garden Grove Adult Day Care Center opened its doors at the United Methodist Church on Main Street in Garden Grove, with 12 participants.

1985: The program administration transitioned to the center's non-profit Board of Directors.

1993: The Board of Directors added the Adult Day Health Care Program and hired a health care team that included a registered nurse and therapists.

1995: The Board of Directors initiated a capital campaign to raise funds for a permanent home for the newly named

Acacia Adult Day Services

.

1997: 18 years after opening its doors the Board of Directors, staff, volunteers and participants moved to its current location on Acacia Parkway in Garden Grove.

2002: Expanded the facility to 13,000 square feet increasing our capacity to 105 per day.

2006: Initiated a Senior Mobility transportation program with OCTA, Horizon Cross Cultural Center and Abrazar

2007: Initiated a Fall Prevention Program

2009: Started an Orange County Transportation Authority funded "New Freedom Transportation Program" which provided rides to doctor appointments, shopping, personal appointments, family, and places of worship.

2012: Became a Community Based CBAS Provider

2013: Selected as one of six CBAS centers to participate in the CAADS Community Based Health Home Project by SCAN

2014: Acacia Adult Day Services celebrates its 35th Year of Service

2015: Acacia Adult Day Services receives a grant from Pacific Life Foundation to initiate a Proactive Action Care Team.

2018: Official merger with Alzheimer's Orange County.

2019: 40th Year of Service to the Garden Grove and Orange County community.
Anaheim Community Development Block Grant, Archstone Foundation, County of Orange Office on Aging, Employees Community Fund of Boeing California, Edward and Helen Shanbrom Family Fund, Garden Grove Strawberry Festival Association, Hoag Community Benefit Grants Program, Pacific Life Foundation, Scan Health Plan, Sisters of Saint Joseph Healthcare Foundation, The Allergan Foundation, The Crean Foundation, The Green Foundation, The S. L. Gimbel Foundation, Orange County United Way, William Gillespie Foundation, Walmart Foundation and Wells Fargo Foundation.